Real Talk like you have never seen!
Breakfast (or meal 1) is vital to your success on any given day!
Review completed by CEO Lenny Starke
Today we are reviewing Cellucor's attempt at a fat burning pre workout, in the form of C4 Ripped.
SPECS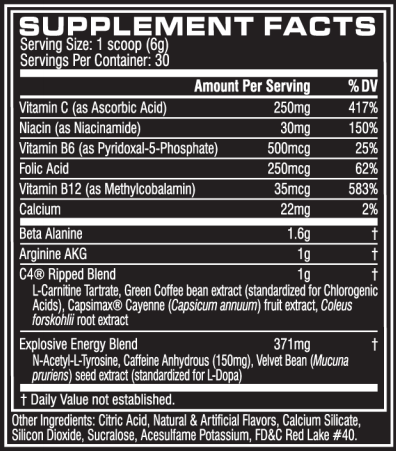 So, the first thing any fan of C4 is going to notice is the Creatine NO-3 has been replaced by the C4 Ripped Blend. All the other things that make C4 such a popular pre workout are still there- the Energy Blend (minus the tea-cor), AAKG, Vitamin Spectrum and Beta Alanine are all present, so lets break them down first.
VITAMIN SPECTRUM
As common in most pre wrokouts, C4 Ripped contains a vitamin spectrum to hep counter act with and buffer the stimulants in C4 Ripped and help with ingredient absorption and transportation.
BETA ALANINE
AKA the tingles. Beta Alanine is used to help break down lactic acid ad is therefore known as an endurance enhancer. Beta Alanine is responsible for the tingles you feel in C4 but it does actually service a purpose in pre workout supplements.
AAKG
Or Arginine is generally used to improve peak athletic performance because it helps the liver break down by-products of muscle exercise such as ammonia. AAKG also helps you workout longer and with less pain and stiffness which leads to better lean muscle gains.
RIPPED BLEND
L Carnitine Tartrate is used to assist the transport of fatty acids in mitochondria, which can aid fat loss, as well as transporting toxic by products out of the mitochondria.
Green Coffee Bean Extract may contain low levels of caffeine, a well known stimulant and fat burner. Chlorinergic acid, the active compound in green coffee extract, has been shown by some studies to induce weight loss in overweight individuals. Green Coffee Bean has also successfully reduced blood pressure in some individuals!


Capsimax Cayenne is used to up the bodies natural temperature which improves the bodies thermogenisis thus helping burn more fat.
Corleus Forskohlli root extract increases cellular levels of an enzyme called cyclic adenosine monophosphate (cAMP). Elevated cAMP levels are associated with increased rates of fat loss, and can improve the effects of other fat burning compounds.
ENERGY BLEND
N-Aceytl- L- Tyrosine  can have a positive effect on the neurotransmitters epinephrine, norepinephrine and dopamine so if often used to enhance mood and well-being. It can also be used to assist dieting by suppressing the appetite.
Caffeine is a stimulant that aids in weight loss through an increase in energy and heart rate.
Velvet Bean Mucuna pruriens is a source of L-DOPA, which is a precursor to dopamine- used as a mood enhancer
VALUE
Supps Is Life sells the 30 serve C4 Ripped for $54.95 or $1.83 per serve. The price point is spot on for a 30 serve pre workout but add into the equation that the product is actually a fat burning pre workout the value for money is amazing as it allows the consumer to use the product for both purposes and lower the need to utilise two separate products.
TASTE

The most common thoughts of consumers are pre workouts aren't there for taste- well can tell you folks we used the tropical punch for this review and we were impressed!  All our scores are out of 5 and represent the views of our reviewer only.
MIXIBILITY- 5
C4 Ripped has no issues mixing and a Supps Is Life Maker Shaker is optional.
TASTE- 4.5
I really enjoyed the flavour of the Tropical Punch. I found it be a perfect mix of flavouring able to mask the ingredients and not be too strong.
OVERALL- 5
C4 Ripped, inline with all C4 products, tastes amazing. It does contain its fair share of artificial ingredients but if a good tasting pre workout/fat burner is what you desire, there are few better.
FLAVOURS
C4 Ripped comes in three flavours. Raspberry Lemonade is the most popoular flavour and is likened to a weaker red cordial. Tropical Punch is a refreshing flavour that tastes fruity and not overpowering. Cherry Limeade AKA Fruit Punch is your standard flavour- that Dr Pepper type flavour that appeals to a certain crowd. Overall all the flavours complement each other and everyone will have an option with C4 Ripped.
OVERALL
I get nervous when companies start to experiment with their biggest names- and there is no bigger pre workout name than C4. I was pleasantly suprised with C4 Ripped as it was perfect to use pre workout or pre cardio and the thermogenic effect was defiantly felt. Although not necessary I would still recommend stacking with Acetyl l Carntine for optimal results. C4 Ripped is definately worth a try as the value for money is great and the results back up the price point.
The whey protein market. One of the most competitive markets in the supplement game. Today we are reviewing what many may see as a new whey protein in Australia but it has in fact been available at Supps Is Life for 18 months, Rule 1 Whey.
SPECS
As mentioned this product is a blend of Whey in the form concentrate, isolate and hyrdolysate. The Rule 1 Whey blend boasts a respectable macronutrient breakdown with 24g of muscle building protein, 5g of carbohydrates and 1.5g of fat which equates to 140 calories overall. The product has a slightly higher level of Sodium at 105mg per serve than that of Combat Whey but is 20% lower in Sodium than Gold Standard Whey. Of the 5g of Carbohydrates found in Rule 1 Whey, 2g are sourced from sugars and 1g is that of dietary fibre. The 1.5g of fat sees the level of saturated fat level at 1g. See the nutritional label below for more information on the specifications on this product.
* Please Note- Review is based on Chocolate flavour, Label below is for the Vanilla Flavour
VALUE
Supps Is Life has 3 sizes of Rule 1 Whey in stock. the 28 serve 2LB tub sells for $54.95 or $1.96 per serve, the 70 serve 5LB tub sells for $94.95 or $1.36 per serve and the 140 serve 10LB bag sells for $159.95 or $1.14 per serve. Rule 1 Whey Blend possess great value for money and with 24g or protein per scoop its one of the better valued products on the market today.
TASTE
The big one, what does it taste like. We trial all our tastings in 200ml of cold water and in our EXCLUSIVE Supps Is Life Maker Shakers. We trialled all the flavours and for this Taste review we are using the Chocolate flavour as it is the most popular flavour. All our scores our out of 5 and represent the views of our staff only.
MIXIBILITY- 5
Rule 1 Whey has no clumping issues and has a smooth texture.
TASTE- 4
A creamy chocolate flavour that is slightly watery in the 200ml taken in.
ONGOING USE- 4
Due to the easy mixibility and creamy taste, we found using this product post workout and snacks throughout the day to be fine and no issue with becoming bored of the flavour.
OVERALL- 4.5
A perfect Whey bend product- not to thick, easy to drink, taste's great and is easy to mix! All the boxes are ticked for the Rule 1 Whey Blend.
FLAVOURS
Supps Is Life stock Chocolate, Vanilla and Cookies n Crea in the 2Lb and 5Lb tubs swell as Chocolate and Vanilla in the 10Lb tubs. Strawbery is also available in the 2LB and 5LB tubs. My personal favorite flavour has to be Cookies and Cream as i find the flavour to be totally on point with my expectations of Cookies and Cream but the Chocolate and Vanilla are well represented and offer great flavours.
OVERALL
Supps Is Life's overall opinion on Rule 1 Whey Blend is honestly- Look Out! to the competition. The main sticking point for consumers is Value for Money and Quality of the product- Both of these concerns are null and void for consumers as the Rule 1 Whey Blend is great value for money swell as having a transparent label and free from Gums and Amino Spiking. If you are in the market for a new Whey Protein for protein snacks or post workout and recovery purposes then we highly recommend Rule 1 Whey Blend as your next stop!!

PURCHASE HERE and receive a FREE Shaker and sample!
Canadian based company Mutant have gone down the Gourmet Protein path and we are hear to review the Mutant Pro 100 series.
WHAT DOES IT DO?

Protein Powders are effectively food. Protein Powder is used to repair muscle tissue and stimulate growth. Protein is extremely important for people who live active lifestyles and powders are a simple way to get high class protein into the body with ease and not having to prep meals. Pro 100 is a gourmet protein powder which means it focuses on taste as a priority. 
We found the recovery to be on par with all whey blended powders that consist of 25g Protein, 5g of Carbs and minimal fat (2.5g in this instance). The beauty of a whey blend is that it generally is thicker and appeals to people who use shakes as a snack or protein hit throughout the day. One thing that Pro 100 does do is offer amazing taste and is extremely filling.
AMINO ACID PROFILE?

In a world that has been damaged by disreputable companies "Amino Spiking" their products with cheaper ingredients its important you understand what you are getting for you hard earned dollar.
The label is very open on Pro 100- its totally transparent. Each tub consists of 5.5g of BCAA and 4.3g of Glutamine- this is similar to big branded products like Gold Standard Whey. A positive sign is with the very open book approach to the label Pro 100 has the exact dosage of each amino acid which adds up to 25g- the same as the Protein disclosed meaning it is free from any spiking.
WHAT DOES IT TASTE LIKE?

This is where Pro 100 really shines. We used the Strawberry and Cream flavour for our review and it is amazing. A thick, creamy texture with an amazing strawberry flavour (think Strawberry Quik) with chunks of strawberry pieces throughout. This defies a gourmet protein shake to a tea with its great taste and the strawberry bites just add that extra bit of class to the product.
WHO SHOULD USE IT?

Anyone who is focused on their health and fitness goals can use Pro 100. We found the product to be amazing to use in smoothies and as a stand alone snack throughout the day. W recommend people get as much Protein, Carbs and Fats from natural food sources as possible but when that becomes difficult Pro 100 can really fill the void. Protein Shakes have a history of being known to "taste disgusting" but the industry has evolved over time and products like Pro 100 ensure taste is never going to be an issue.
VALUE FOR MONEY?

A 2LB (909g) tub consisting of 25 serves will set you back $59.95 with the 4LB (1.81kg) tub consisting of 50 serves setting you back $99.95. The pricing is at the end of Protein Powders but the fact it is gourmet and also versatile (can have anytime of the day) more than makes up for it. 
* Comes with a free $49.95 Mutant Gym Bag at www.suppsislife.com
FINAL WORD!

Coming in at the upper end of pricing Pro 100 needs to deliver. We are very impressed with this product and it goes along way to being one of the best tasting protein I have used. Personally, it is probably not my preference for Post Workout just down to the thickness but where Pro 100 shines is in its ability to be used throughout the day and the ability for the product to fill you up. Overall if you are in the market for a Protein Powder to use throughout the day or in a smoothie then Pro 100 is definately one to put on your list for consideration.
Evogen Nutrition's Stim Free Pre Workout EVP is a real gem of a product.
Short for Evopoietin One Alpha, We are here to review this amazing product for our valued followers.

WHAT DOES IT DO?
EVP is a non stim pre workout. Non Stim means it doesn't contain any caffeine or "buzz". The end result is a flood of enriching, blood-engorging nutrients into the muscle cell, causing an incredible increase in blood volume with a corresponding "swelling" of muscle tissues. This means a massive pump. EVP contains Leucine and Glutamine to help prevent catabolism (muscle breakdown) whilst you workout. ATP is the energy system the body first derives energy from, so a spectrum of ATP in EVP helps with power and endurance as well as the ever present Vitamin spectrum to buffer the effects. 

In saying all that what EVP does is give you one hell of a workout. The mental focus, the intense pumps and the power you feel on this product is to date, unrivaled. 

WHAT DOES IT TASTE LIKE?

EVP comes in two flavours - Strawberry Kiwi and Grape. We trialled the Grape version and the taste is pleasant - not to strong, but not weak enough to get the acidy taste of some products on the market. The scoop size is relatively large in comparison to other products (e.g. - C4 or Mr. Hyde) but this product is a packed with a load of ingredients so the scoop is justified.

WHO SHOULD TAKE EVP?


EVP is going to appeal to everyone - period. The vascularity and mental focus alone make this product worth the money. For the leaner people, the road map will be in full swing on EVP so it is an opportunity to get that selfie count up. The best part we found about EVP is that even the average person, (15-20% Body Fat) is going to benefit from EVP, as the focus is amazing and that's what is important about working out and bettering yourself- focusing on the reason your there.
VALUE FOR MONEY?

EVP is at a fair price point. $79.95 for 40 serves is well priced for even the average pre workout, something EVP can not be classed as. Under $2 a serve for a product that gives you the alpha feeling is money well spent and like all people - If it is worth it then you pay the price. The fact you don't ever have to double scoop this product for the full effect means it is better value for money than most 30-45 serve pre workout you double scoop anyway. 

FINAL WORD!

If you take your training seriously and are dead set keen on getting the optimal results then Evogen as a whole is a brand you need to go with. EVP is a top shelf pre workout - it takes the 'non stim' pre workout section to a whole new level. Pre Workouts - you have been called out.

WHERE CAN I BUY IT?
Simply click the link below and get the best out of your workouts immediately with FREE SHIPPING!
http://suppsislife.com/products/evp
Branch Chain Amino Acids AKA BCAA are commonly those bright colors you see in the shakers of gym goers world wide. Apart from tasting great and looking cool what purpose do they serve in you achieving your goals.
BCAA's are made up of three Amino Acids- Leucine, IsoLeucine and Valine. There is various ratios on the market from 2:1:1, 4:1:1 and a shish as 10:1:1 but the only backed ratio for muscle anabolism is 2:1:1. BCAA are made up of the three most anabolic amino acids found in protein with leucine being the most anabolic overall, hence the higher dosage per serve. BCAA are often left out of the amateur gym goers supplement regime but anyone looking for serious results should consider the benefits of BCAA supplementation.
BCAA are brilliant for muscle recovery, that is obvious. What else do BCAA achieve for you in your goals?
- BCAA keep the body in anabolic mode and prevents catabolism. This is obtained through consistant fueling of the muscle with the super anabolic trio ingredients found in BCAA supplements.
- BCAA are high in electrolyte and rehydration ingredients that help fight lactic acid and fatigue.
- BCAA essentially help with the growth of lean muscle mass and reduce the recovery time needed and soreness felt by the user.
When do I not need BCAA supplements?

The average male trying to gain muscle needs 1.5g protein per kg of body mass daily with as much as 2-3g of protein required by some individuals. For women the average is 1.5g per kg of bodyweight but never exceeds 2g. That means the average 100kg male who trains 6 days a week needs to consume between 200-300g of protein daily. Lets break that down with food and Protein supplements
200g protein = 800g cooked chicken breasts
300g protein= 1.2kg chicken breasts
As you can see to consume that amount of food is quite the challenge. If you are actively eating 40-50g protein in you 5-6 meals daily then the need for BCAA definitely reduces. BCAA can still be effective for energy, hydration and electrolyte replenishment intra workout. 
BCAA and Fat Loss- Myth or Truth?
Undoubtedly there no myth to the fact BCAA assist in fat loss- but how? 
BCAA keep the body in "anabolic" mode rather than "catabolic", so what stye difference? When the body is anabolic it is rebuilding muscle and making gains where catabolic is when the body is breaking down the muscle for fuel- something we all need to avoid. (We will cover that next time).

So the body remains in anabolic mode rebuilding muscle whilst using BCAA throughout the day which takes more energy expenditure thus the metabolic rate rises and BOOM- fat loss engaged. Always remember that the more muscle mass you have the more you need to feed it to keep anabolic so always have a professional nutrition or dietary specialist (like Supps Is Life) evaluate your current situation.


So in a nutshell BCAA have their place in any diet and supplementation plan. In a world where the economy is tight things always are prioritized so I'm going to include a link for a BCAA product that is less than $1 a serve- http://suppsislife.com/products/amino-drive?variant=11732807686
FUN FACT!
Smash down one scoop of BCAA after a hard night on the alcohol to offset hangovers- the BCAA rehydration and electrolyte foundations help refuel the body as you sleep!